Prepare yourselves, One Direction's Liam Payne has signed a new record deal and will soon release a solo career with "Capitol Records". 
The major record contract means Liam will be heading into the studio to work on his first solo album.
Liam said; "I'm really happy to have signed to such a prestigious label as Capitol Records UK. Capitol Records has an amazing history stretching right back before even Frank Sinatra and I'm really looking forward to becoming part of their story. One Direction will always be my family; I'm now excited to show what I can do as a solo artist."
The 22 year old singer, who has sold over 20 million albums as part of One Direction, has decided to go with a whole new management team for his next adventure. More details will be announced soon. We cant wait.
He has taken to Instagram with the below pic, and captioned it: "Very happy to have signed to my new record label Capitol Records. They have such an amazing history of artists, I hope I can follow in the footsteps. One direction will always be my home and family but I'm very excited to see what this chapter brings."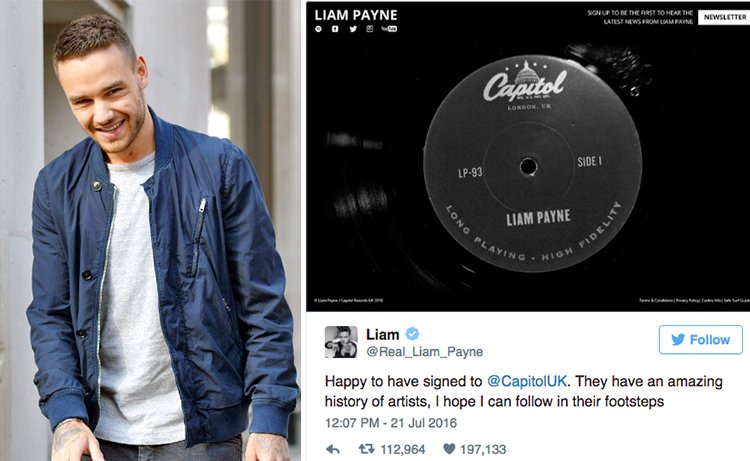 Nick Raphael, President, Capitol Records UK said today: "Capitol Records UK are incredibly excited to be working with Liam. It's not often you get the chance to sign such a talented and ambitious 22 year old who has already conquered the world."
Capitol Records UK also represents Sam Smith, 5 Seconds Of Summer, Bastille, Elton John and Rod Stewart so he'll be in good company. 
We are really looking forward to Liam Payne's solo music, finger crossed. Good Luck Liam!