People have been enjoying the vampire characters from many years. At first, vampires were portrayed as sexy villains or bloodsucker demons but from like a decade, the vampires have got a new status, they are now the main supernatural heroes of the movie or a TV series and we all know that vampire heroes are way more sexier than normal average heroes. Lets take a look at some sexy vampires of all time. Its a count down!
30. THE HUNGER'S JOHN
Played by: David Bowie
Bowie played an FBI agent, a goblin king and an alien amongst others, but here we celebrate him as Catherine Deneuve's companion John, a vampire who discovers he is immortal but not immune to ageing. Sad!
29. VICTORIA FROM TWILIGHT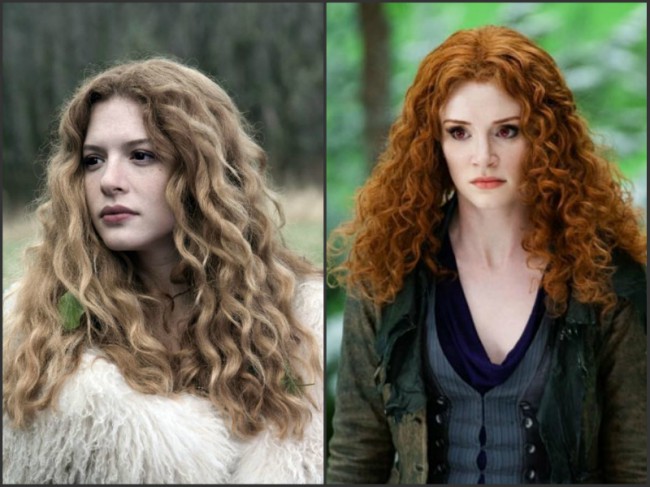 Played by: Rachelle Lefevre and Bryce Dallas Howard
Oh-so 'naughty but nice' just ask your man. Whether played by Rachelle or Bryce, redheaded Victoria made Twilight watchable for fellas everywhere.
28. BLADE
Played by: Wesley Snipes
Wesley Snipes added a touch of the big nuts action hero to the Marvel creation Blade a bad-ass, half-man/half-vampire who sets out to protect humans from evil vampires. As well as a snappy 'do and a penchant for leather, he's got some pretty nifty gadgets and killer moves to boot.
27. DEMETRI FROM TWILIGHT
Played by: Charlie Bewley 
Newcomer Charlie made his film debut in New Moon as the very scary Demetri but we're looking forward to seeing a lot more of him as the saga continues. Those eyes, that voice.
26. BRAM STOKER'S DRACULA
Played by: Gary Oldman 
Francis Ford Coppola's take on the classic novel featured a very dashing Oldman as the Count. Granted he loses his looks later down the line, but ten out of ten for the over the top accent, dapper suits and gentlemanly ways.
25. ALICE CULLEN FROM TWILIGHT
Played by: Ashley Greene
Playing Edward's elfin sister Alice made Ashley a fully-fledged Hollywood star and bagged her a Jonas brother!
24. CARLISLE FROM TWILIGHT
Played by: Peter Facinelli
With his piercing eyes, striking blonde locks and gentlemanly brogue, it's no wonder the Cullen patriarch has made it into our Top 30. Team Carlisle tees, anyone?
23. UNDERWORLD'S SELENE
Played by: Kate Beckinsale
Weapon toting vamp vixen Selene not only single-handedly kills werewolves, making her a total bad-ass in our eyes but she looks seriously hot in a leather cat suit.
22. JASPER HALE
Played by: Jackson Rathbone
The minute we heard Jasper utter "my apologies, mam" to his love, Alice in that irresistible Southern drawl, we were smitten. We girls have always been a sucker for an old-fashioned gent. They are so rare nowadays.
21. PARIS JE T'AIME'S VAMPIRE
Played by: Olga Kurylenko
Before she became a Bond girl, a menacing Olga used her feminine wiles to seduce an innocent American tourist played by Elijah Wood in Paris' Quartier de la Madeleine. What would James say, we wonder?
20. TALBOT FROM TRUE BLOOD
 Played by: Theo Alexander
Sensitive, cultured and ever-dapper, what we wouldn't give for an invite to one of True Blood's very own Greek god's carefully-planned dinner parties? Shame the sexy vamp's lovebites are saved for his on-screen hubby of 700 years, Russell.
19. ROSALIE HALE FROM TWILIGHT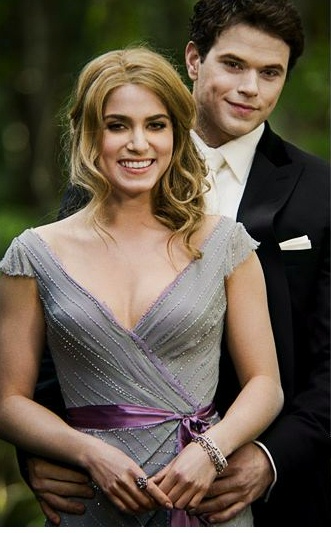 Played by: Nikki Reed
She's often described in Stephenie Meyer's books as the most beautiful woman on the planet so taking on the role of Rosalie is a pretty tall order. Of course, who better to portray the vamp vixen than exotic screen siren Nikki?
18. DRACULA'S BRIDE FROM BRAM STOKER'S DRACULA
Played by: Monica Bellucci
The most voluptuous of the greedy count's brides but, unfortunately for many an unsuspecting victim, she's as ferocious as she is full-lipped.
17. CAIUS FROM TWILIGHT
Played by: Jamie Campbell Bower
Evil Volturi vampire Caius gives Robert Pattinson a run for his money in the chiselled cheekbones stakes. The Brit boy's dulcet tones and silken locks have even charmed Harry Potter's flamed-haired female Weasley, Bonnie Wright.
16. INTERVIEW WITH A VAMPIRE LESTAT
Played by: Tom Cruise
Tom Cruise took a break from being an action hero for a turn in Anne Rice's 1994 screen adaptation of her vampire series. Lestat is one charming vampire who mortally pisses off his vamp pals, but we have a certain soft spot for him and his dark humour. The vamp's got charisma!
15. JENNIFER'S BODY JENNIFER CHECK
Played by: Megan Fox
Okay, so she's not an actual vampire per say, in fact, were not sure what she is but the 'body' in question found herself possessed and spent her graduating year 'eating' boys while dressed in a series of teeny skirts, so she has more than earned her place in our countdown.
14. THE LOST BOYS' DAVID
Played by: Kiefer Sutherland 
Possibly the BEST film of the 80s saw a group of vampires seek to recruit new member Michael for their dare we say it pretty damn cool gang. A bleached-blonde, pierced-eared Kiefer Sutherland plays David, who utters the immortal line…"They're only noodles, Michael…"
13. FROM DUSK TILL DAWN'S SANTANICO PANDEMONIUM
Played by: Salma Hayek
"Mistress of the Macabre. The Epitome of Evil. The most sinister woman to dance on the face of the earth." As an exotic dancer, Salma Hayek's Santanico Pandemonium was irresistible; as a bald vampire with fangs and scaly skin, she was less so. Still, she sure knew how to charm that python.
12. STEFAN SALVATORE FROM THE VAMPIRE DIARIES
 Played by: Paul Wesley
Like many teenagers, high school vampire Stefan suffers with his hormones. But, unlike everyone else, this means that his eyes turn blood-red and his skin goes pale and veiny whenever he sees his love interest Elena. Could be a bit of a problem, that.
11. DAYBREAKERS EDWARD DALTON
Played by: Ethan Hawke
After Twilight, 2010's cult vamp flick Daybreakers may have given 'vampires' back to the boys, but it gave us vamp cinema's second sexiest Edward the smoldering Dalton brother. Like Cullen, Ethan's Edward dines strictly on the blood of animals, has an eye for ladies of the human persuasion and makes our heart skip a beat every time he sizzles on to the screen. Swoon.
10. RILEY BIERS FROM TWILIGHT
Played by: Xavier Samuel
When we saw Xavier's penetrating stare and cheekbones in the opening sequence of Eclipse, we were almost, dare we say it, like "Edward who?". Almost.
9. BILL COMPTON FROM TRUE BLOOD
Played by: Stephen Moyer
Sexy vamp show True Blood's protagonist is the strong, silent type and, as you'd expect from someone who was born in 1835, has all the manners of a Victorian gentleman. With all that sexual tension flying round, it's no surprise Stephen and his co-star Anna Paquin hooked up when the cameras stopped rolling. The pair married in August 2010.
8. BUFFY THE VAMPIRE SLAYER'S SPIKE
Played by: James Marsters
While Angel was the vampire with a soul, Spike was the rock 'n' roll bad boy vamp who also found his way into Buffy's heart. He claimed Billy Idol stole his look (leathers, bleached hair) and this, teamed with his cockney accent and total disregard for, well, anything made him super super sexy.
7. THE LOST BOYS' MICHAEL
Played by: Jason Patric
80s pin-up Jason was soooo fine as good boy gone bad Michael, who accidentally turns vamp whilst trying to impress a girl. Best scene ever: Michael comes home from a night of vamping and his little brother (played by the late Corey Haim) shrieks; "My own brother, a goddamn, shit-sucking vampire. You wait 'till mom finds out, buddy!"
6. ERIC NORTHMAN FROM TRUE BLOOD
Played by: Alexander Skarsgård
By popular demand you ladies REALLY have a thing for this bad boy barman. In the words of Sookie Stackhouse herself: "If there were an international butt competition, Eric would win, hands down or cheeks up." Enough said.
5. INTERVIEW WITH THE VAMPIRE'S LOUIS
Played by: Brad Pitt
Possibly THE hottest look for Brad Pitt ever, Louis plays sidekick to Lestat for as long as he can take it, but his soul is not cut out for vampirism. Frankly with that long hair and kinky vampire get-up we're not massively bothered about his soul.
6. EMMETT CULLEN FROM TWILIGHT
Played by: Kellan Lutz
Edward's beefy yet affectionate big bro Emmett caught our attention with his gentle mocking and impressive torso. And thanks to those Calvin Klein ads, we've got to see a lot more of Kellan. Hunk!
3. BUFFY THE VAMPIRE SLAYER'S ANGEL
Played by: David Boreanaz 
Buffy may have been a Vampire Slayer but that didn't stop her from falling in love with a few of them. David Boreanaz's Angel was her true love, and who could blame the girl? Brooding, chiselled, the body of a god and forever in torment. Boreanaz you made vampires sexy. End of.
2. DAMON SALVATORE FROM THE VAMPIRE DIARIES
Played by: Ian Somerhalder 
When The Vampire Diaries hit screens in 2009, the team were no doubt expecting clean-cut, All-American hero Stefan would be the show's pin-up. Little did they know that teenage girls (and their mothers) everywhere would wind up lusting after Damon, Stefan's evil, malevolent, but downright SEXY big bro.
EDWARD CULLEN FROM THE TWILIGHT SAGA

Played by: Robert Pattinson




Twilight's resident Sex God, Robert Pattinson has brought new meaning to the term 'pale and interesting'. Like all vampires, Edward has a taste for blood, but that's all too easy to forget when you look at his ripped torso and intense eyes. A thing of beauty

.